Infra Recorder
Description
Infra Recorder is a CD recording application based on cdrtools.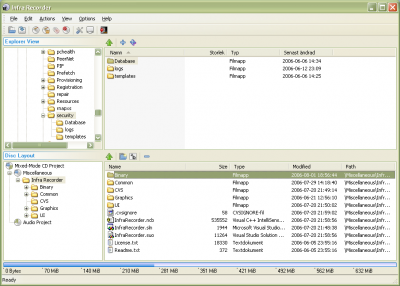 Download
Release Notes
Features
In terms of CD-recording Infra Recorder is capable of:
Scan the SCSI/IDE bus for devices and collect information about their capabilities.

Blank (erase) rewritable discs using four different methods.

Record disc images.

Create custom data, audio and mixed-mode projects and record them to physical discs as well as disc images.

Fixate discs (write lead-out information to prevent further data from beeing added to the disc).

Create disc copies, on the fly and using a temporary disc image.

Import session data from multi-session discs and add more sessions to them.

Display disc information.

Save audio and data tracks to files (.wav and .iso).
Other features include:
Shell extension adding options for recording disc images and projects to the shell context menu.

Express application providing quick access to the most common tools/features.
Source
CVS
Compile Information
To compile Infra Recorder you will need the WTL library.
Usage
Compiled Windows 2000/XP unicode binaries are avaiable at the Infra Recorder CVS branch. You will need all files in the Binary folder (including the cdrtools sub folder and all its contents).
The program has currently only been tested under Windows XP.
Translations